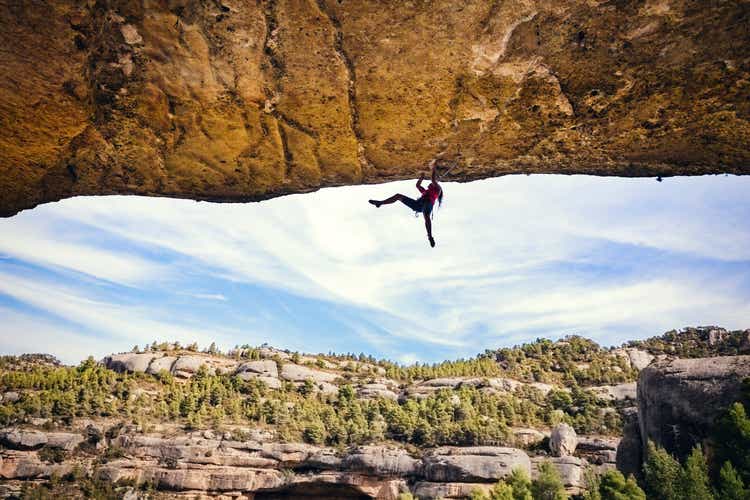 Main Thesis & Background
The purpose of this article is to evaluate the Vanguard Energy ETF (NYSEARCA:VDE) as an investment option at its current market price. This is a passively managed sector fund with an objective to "track the performance of a benchmark index that measures the investment return of stocks in the energy sector."
This is my preferred way to capture Energy exposure, and my readers are well aware I was an Energy bull as 2022 wrapped up and we moved into 2023. In hindsight, VDE's gains have slowed down, but it has still registered a positive return since I covered it last: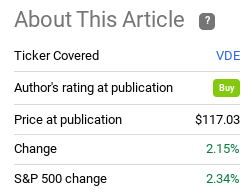 While I always welcome more gains, I am concerned about the recent price action for VDE, and that led me to want to do another review. After some thought, I do feel that a more prudent stance is warranted. The takeaway was I have shifted to a hold/neutral outlook on VDE – and I will explain why below.
Growth Concerns Are A Worry
A primary driver of this rating shift is the outlook for economic growth in the western world. This is partially offset by optimistic signs in emerging countries like China and India. But if 2020 – 2022 taught me anything, it is that the climate in Asia (especially China) can shift on a dime. Forecasts there, as a result, are not quite as meaningful.
Worrying, then, is that economic growth in North America and Europe is set to decelerate. This is being driven by persistent inflation and expectations the Fed and other central banks will have to continue Economic Growth Projections interest rates. If they do, that could lead to slower growth and/or recessions in many corners of the world. For now, the expectation is that growth will rebound higher in 2024, but the immediate outlook of lower growth in 2023 (compared to last year) is driving the softness in energy prices:
At the very least, this warrants some caution. Can countries like China out-perform and override this growth slowdown? Yes. Could the West end up exceeding these more modest expectations? Also, yes. But we could also be entering a protracted, lower growth phase. Balancing that reality is central to why I would urge more caution on Energy positions for the time being.
Russian Supply Has Been Resilient
While oil and other energy prices spiked as a result of Russia's invasion of Ukraine a year ago, that prices have since moderated. The globe had a more mild winter than forecasted, the conflict has not spread beyond Ukraine's borders (yet), and supply disruptions have moderated. The end result is that the elevated crude prices did not last and have since stayed in a tight range:
Now, there are multiple reasons for this. But one in particular that is a concern for prices going forward is the resilience of Russian supply. To recap, after the conflict in Ukraine began, the West (the U.S. and Europe) imposed numerous sanctions on Russia and Russian officials as a punitive measure. The goal was to pressure them economically to bring about a swift end to the conflict. As we have now hit the one-year anniversary of the war, that clearly has not worked.
An analysis as to why brings me back to energy and crude prices. Western leaders clearly discounted the fact that oil is a global commodity. Just because the U.S. and the EU-zone will be banning or sanctioning Russian oil does not mean the rest of the world will. Case in point, with Russia's producers facing little demand in the West, they have found an appetite for their crude in the Gulf, Latin America, and Asia. Notable mentions are India and China, two of the biggest consumers of oil on the planet. The net result is Russian exports have remained elevated despite the Western sanctions:
The point I am making here is that one of the reasons oil prices spiked in early 2022 is because of supply worries. This was two-fold. If Russian crude came off the market, prices would rise due to a decline in what was available in the market. Two, if the supply-chain for crude was impacted globally due to the conflict prices would also rise. This is logical, since the cost of shipping it will rise when it becomes more difficult to transport it. That cost would ultimately be passed on to the buyer and final prices would remain elevated.
Here we are in March 2023 and we see that supply-chains are less disrupted than previously predicted. Further, Russian crude has not come off the global market just because the U.S. and Europe have tried to make it so. What this does is remove key catalysts for higher crude prices and re-sets my expectations for VDE's returns in the year ahead.
Debt Ceiling Preparation
My next thought concerns the impending debt ceiling debate that I believe will rattle equity markets later this year. This is a little premature in a sense, because the showdown in Congress is probably months away. But preparation is key here – don't wait until the negative headlines start rolling in before making any portfolio adjustments! The time to act is before the rest of the market does, such as right now.
To understand why I see this as relevant to VDE in particular is because Energy was one of the hardest hit sectors during the 2011 debt ceiling crisis. I remember this well, as I was about to start graduate school and the time and the sudden drop in my portfolio balance gave me some heartburn. For those who don't remember it as clearly, Congressional Republicans and then-President Obama were deadlocked for a while on how to address the nation's ever-climbing debt. Proposals included tax increases and spending cuts, but the government shutdown lasted while this was worked out. The equity markets became very volatile and cyclical sectors like Financials and Energy were disproportionately impacted.
If we look-back at performance between July – September 2011, we see oil and Energy shares in particular saw large drops. The S&P 500 was down too – showing most of the market was impacted – but Energy saw an above-average decline around 21%:
The conclusion I draw here is that if we see a repeat or something similar to the 2011 debt ceiling standoff, VDE could be ripe for a fall. History shows us, at the very least, that debt-induced government shutdowns are not good for equity markets. In fairness, those drops tend to be good buying opportunities because markets will recovered once the debt ceiling is (ultimately) raised. But that means I want to have cash on hand in preparation for those opportunities. So I will be staying patient now in anticipation, especially with respect to more cyclical positions like VDE.
This Is Not A "Doom and Gloom" Review
Through this article, I have highlighted some key risks to crude prices and the Energy sector's returns going forward. As a holder of VDE, I think managing expectations for the next few quarters is important and I am not going to be aggressively buying here.
But this is not to suggest I think panic selling of the sector is the right move. Do risks exist? Yes. But they always do. I personally see a challenging risk-reward environment for new purchases right now, but that doesn't mean I am going to trigger tax gains by selling a large portion of my position that is in the green. Will I be hesitant on buying more? Definitely. But I am not suggesting sharp declines either.
The justification for this is there are plenty of factors that could push crude prices higher. If so, the underlying companies within VDE will continue to enjoy record profits as they have been over the past 12-18 months:
This is central to VDE's out-performance last year, because two of the biggest beneficiaries of higher oil prices are large holdings in the fund:
Simply put, VDE has been positioned well, and that could continue to be the case going forward. It is top-heavy, but those shares have been propelling VDE higher on the backdrop of record earnings. There are a number of factors that could keep this story in place in 2023 – such as an escalation in the conflict in eastern Europe, a delay of a U.S. recession, and/or a surprise decline in inflation. This push-pull environment supports why I am certainly not bearish on VDE, despite being less bullish than I was a year ago.
Bottom Line
Vanguard Energy ETF has enjoyed quite a bit of success, but I am focused more on protecting these gains rather than amplifying my exposure. I think there are some serious headwinds that could open up better buying opportunities in the months ahead. Therefore, I will remain on the sidelines now as expressed in my "hold" rating outlook. I would encourage readers to use this review as food for thought and approach new positions selectively at this time.