Miami-Dade County, Florida, residents were urged on Thursday to remain indoors with their windows closed as a fire at a waste-to-energy facility continued to burn for a fourth day.
The fire broke out at the county waste-to-energy incinerator operated by Covanta in Doral, Florida on Sunday, which crews with the county fire department have tirelessly tried to extinguish since responding that day.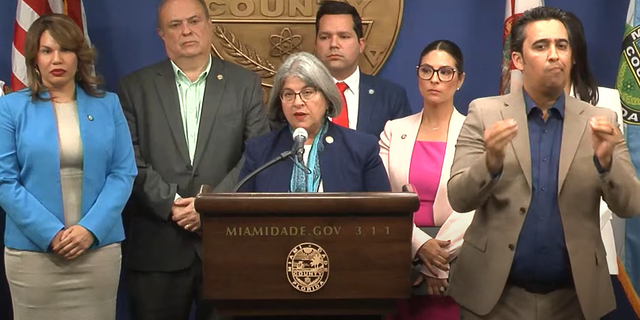 The Miami-Dade Police Department responded immediately after the fire was reported and said no injuries were sustained to personnel on site.
RAGING 5-ACRE FLORIDA FIRE BURNS PLASTIC POTS OUTSIDE KISSIMMEE NURSERY PLANT WAREHOUSE
County mayor Daniella Levine Cava provided an update on the situation with the fire during a press conference on Thursday.
"As of this morning, there is minimal change in the status of the fire and it continues to burn inside two structures," she said.
The mayor said the focus was to first take down the north and east walls of one of the structures to allow more air to enter the area that is burning and allow more access for fire personnel to attack the blaze.
Cava also said the U.S. Environmental Protection Agency, or EPA, completed its first 24-hour environmental report, and the initial findings were in line with all existing recommendations given by county officials to citizens.
FLORIDA DRIVER RESCUED FROM FIERY CRASH BY FLAGLER SHERIFF'S DEPUTIES, GOOD SAMARITANS
She said residents should remain indoors with their windows closed. If anyone needs to drive near the burning facility, they are advised to keep their windows closed.
Cava said the recommendations were particularly important for people with respiratory issues, and if anyone needs to go outside, she said, they should wear a mask.
Miami-Dade County Fire Department Chief Ray Jadallah also provided an update on the operations, saying they were on day five, and currently day two of a partial demolition of the southeast portion of the building.
OHIO TRAIN DERAILMENT: OFFICIALS INSIST EAST PALESTINE IS SAFE BUT RESIDENTS AREN'T BUYING IT
Jadallah said there were 100 firefighters on the scene and there are four operations taking place.
The first operation, he said, was to extinguish the trash fire in two buildings. Partial demolition of the Southeast building was operation two, and the third operation was shuttling the trash from the north trash pit on the property to prevent it from catching fire.
Jadallah said the fourth operation taking place was an investigation into the cause of the fire.
On-scene coordinator for the EPA, Matt Huyser, said he has been on site since Monday and his team has been collecting air samples. The air samples will continue to be collected in and around the perimeter of the facility, as well as downwind in residential areas.
CLICK HERE TO GET THE FOX NEWS APP
Huyser added that EPA officials will continue to take air samples until they feel comfortable handing the situation off to county officials.