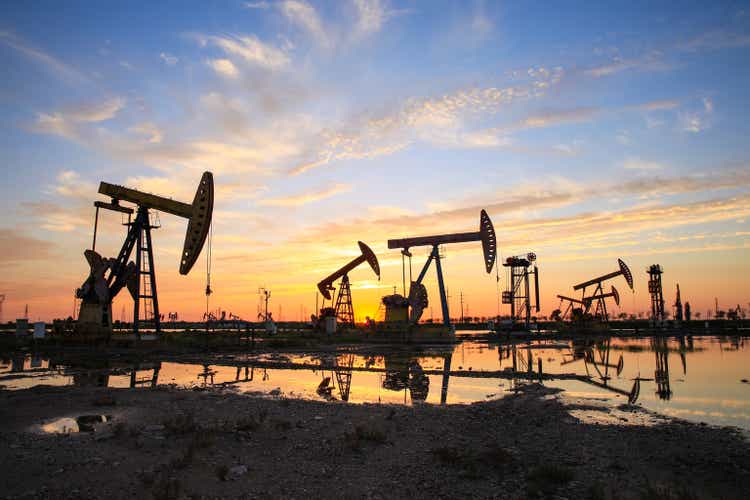 Devon Energy Corporation (NYSE:DVN) posted a double miss on its top and bottom line for its FQ4'22 earnings release.
Accordingly, DVN fell more than 5% post-market but still sitting well above its early January bottom. DVN has underperformed the S&P 500 (SPX) (SPY) since our previous update in January but still posted a market-beating 1Y total return of 27.1%.
Moreover, the weakness over its Q4 operating results has likely been contemplated at its January lows, as market operators sent DVN plunging nearly 30% from its previous October 2022 highs.
So, we urge investors not to be unduly concerned with its post-market volatility, which isn't unusual given a significant miss against January estimates.
Accordingly, Devon Energy posted revenue growth of $4.3B (Vs. January's estimates of $4.82B) while posting an adjusted EPS of $1.66 (Vs. January's estimates of $2.01).
As such, it's somewhat of a reset button being pressed against Devon, as the ongoing weakness in the underlying energy markets likely impacted the company.
However, Devon still posted a staggering free cash flow (FCF) of $6B for FY22 but recorded just $1.1B for Q4. As such, the FCF accretion has slowed significantly, as it also came in below January's FCF estimates of $1.24B.
Keen investors should recall that we highlighted in October 2022 that the growth normalization phase could hit Devon hard, as it's unlikely to replicate its stellar performance, at least in H1'23.
Hence, investors need to have the conviction that Devon could stage a sustained recovery from its near-term production challenges, with sticky inflation likely still a headwind.
Accordingly, Devon expects its average production for Q1 to be "impacted by infrastructure downtime." However, its production forecasts of between 643K to 664K Boe per day for FY23 indicate a 2.7% increase relative to FQ4's production levels.
As such, Devon is still primed to leverage a recovery in the underlying energy markets but within the "company's disciplined approach to the business in 2023."
Therefore, it should assure investors that the company remains focused on distributing up to 50% of its excess FCF. While the announcement of a fixed and variable dividend of $0.89 has likely disappointed investors, we believe a prudent approach is necessary, as the recovery in the energy markets is uncertain.
OPEC+ revised its supply projection for crude oil, indicating a "tighter global oil market" in 2023. It remains constructive on the uplift from China but believes the oil market will remain "broadly balanced."
As such, we assessed that OPEC+ is likely keen to parse the effects of the Fed's monetary policy actions, which could put further pressure on underlying energy prices if it decides to level up its hawkish response.
Accordingly, yesterday's (February 14) CPI release has reignited more hawkish commentary that the Fed might need to push for higher interest rates to bring down persistently the high inflation rates.
As such, the Fed could intensify market volatility if it decides to press on further, increasing the risk of causing a deeper recession. Hence, the attendant risks emanating from a still hawkish Fed might not have been fully contemplated in the energy markets.
Despite that, we assessed that the opportunity of adding more exposure in DVN is still attractive from a reward/risk perspective.
DVN January lows saw robust buying support, even though the upward momentum remains tepid.
With the selloff post-earnings, it should open up another dip-buying opportunity for investors.
Devon's average cost for its stock repurchases in 2022 amounted to about $50 per share. As such, DVN is still sitting at levels well above the price zone that attracted Devon Energy back into the market, with the company having about $700M remaining from its $2B authorization.
Hence, investors are encouraged to add exposure carefully but be on the lookout for a change in trend if our thesis doesn't pan out.
Rating: Speculative Buy with a price target of $70 (Reiterated).
Note: As with our cautious/speculative ratings, investors must consider appropriate risk management strategies, including pre-defined stop-loss/profit-taking targets, within an appropriate risk exposure.