Chief operating officer Jon McKenzie will take the helm in April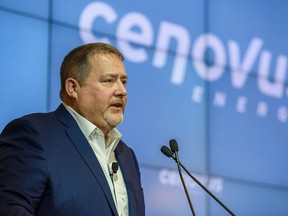 Article content
Cenovus Energy Inc.'s chief executive Alex Pourbaix is stepping down after more than five years at the helm of the oilsands major.
Article content
The oilpatch veteran will shift to the role of executive chairman and current executive vice-president and chief operating officer Jon McKenzie will take over as chief executive following the company's annual general meeting in April 26, the company said on Feb. 16.
Article content
"Under Alex's exceptional direction, Cenovus has transformed into a resilient, integrated energy leader," said board chairman Keith MacPhail in the release. "Externally, Alex goes above and beyond as a tireless advocate for the Canadian energy industry."
Pourbaix was a surprise choice for CEO back in 2017 when he came to the oilsands producer after retiring from TransCanada where he served as chief operating officer and led the company's early push for the controversial Keystone XL pipeline project.
Article content
The former pipeline executive has been a staunch advocate for the industry while shepherding Cenovus through two of the worst pricing environments in Canadian oil industry history, including a punishing period of wide differentials between Canadian and U.S. crude in 2018 and the pandemic price crash in 2020.
In a statement, Pourbaix said he was looking forward to continuing his work as executive chair.
"One of Cenovus's greatest strengths is the company's exceptionally talented people and I'm very proud of what we've been able to achieve together," Pourbaix said. "Jon – with his leadership strength, strategic vision, financial discipline, commercial acumen and knowledge of the business – is more than ready for the president & CEO role. I'm excited to continue working closely with Jon to support Cenovus and our industry as executive chair."
Article content
The company issued the succession update alongside its fourth-quarter financial results.
Cenovus reported net earnings of $784 million in the fourth quarter, compared to $1.6 billion in the previous quarter. The decline was primarily due to lower operating margins and non-cash impairments of $266 million in its U.S. manufacturing segment, as well as a revaluation gain of $549 million in the third quarter related to the Sunrise acquisition, the company said.
Annual earnings for the Calgary-based oil and gas producer in 2022 were still up 999 per cent compared to the previous year, thanks to a surge in energy prices following Russia's invasion of Ukraine.
Article content
The company also ended the fourth quarter with its net debt down nearly $1 billion from $5.3 billion in the prior quarter. Cenovus has said previously that once its net debt level drops to $4 billion, it will allocate 100 per cent of its excess cash flow to shareholder returns. The oilsands firm said it paid out more than $3.4 billion to shareholders in 2022 through share buybacks and dividends.
Cenovus said upstream production in the quarter was 806,900 barrels of oil equivalent per day (boe/d) — an increase of nearly 30,000 boe/d compared to the prior quarter — but down from 825,300 boe/d in fourth quarter of 2021.
Total downstream throughput was 473,500 boe/d, up from 469,900 in the same period last year.
More to come …
• Email: mpotkins@postmedia.com | Twitter: mpotkins